Most of PC speakers aim for maximum bang per buck: ear splitting top volume, booming bass a rock-bottom price seem to be the features that sell. Into the crowd of boy racers, Teufel's latest 2.1 set glides into view like an Aston Martin, albeit with German plates.
Teufel speakers are only available direct from
Berlin
, which helps to keep down costs. However at £449, this is the most expensive 2.1 PC speaker system we've seen to date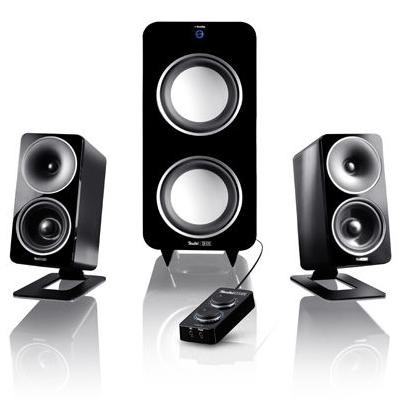 It looks every bit as good as the price suggests elegant and understated, with a premium finish. There's a solitary analogue stereo input and its deserves a signal from a high-fidelity sound card to do the speakers justice. And S/PDIF input would have offered a work around, but those who already own a decent sound card will be thankful not to have to shell out for another premium DAC chip. Unfortunately, there are no speakers cables include in the box.
The wired remote has volume and sub woofer level controls, although the latter is calibrated too high by default. Useful settings were around 10per cent and the ratcheted design made fine adjustments imprecise. The remote also houses a headphone output and microphone input a socket on the subwoofer passes the microphone signal to the sound card. The integrates headphone amp sounded clear with plenty of headroom, but emitted a violent clunk while switching on and off.
The amplifier is a class D design, a relatively unusual approach that's more energy efficient than traditional amplifier. It seems to do its job in this instance as this system exhibited an openness and clarity that cheaper PC speakers can't match. The crossover circuitry and speakers can't take some credit, of course. The tweeters recessed surrounds help to reduce reflections and maintain phase with mid-frequency drivers, and their focused sound created an immaculate stereo image with sense of space and depth.
There's a gentle presence lift at around 3-4 KHz, which flattered most sources but risked making intense music, games and films are a little fatiguing at high volumes. These frequencies were extremely precise and focused, though, so the tone was generally more vibrant and exciting than fatiguing.
The subwoofer was spine-tinglinly impressive; it took drum and bass swoops in its stride, but was controlled enough to flatter gentler music. The 150MHz crossover between the subwoofer and satellites is a little higher than is ideal, though, so bass frequencies could be traced to the subwoofer rather than blending seamlessly with the satellites. Keeping the sub tucked well under the desk minimizes the issue.
Feeding the set with test tones revealed a solid, even response from 40Hz, passing seamlessly over to the satellites. The crossover between the satellites mid-range and high-frequency drivers was smooth, although we noticed a little harmonic distortion between 300 MHz AND 800MHz.
VIDEO REVIEW:
This set is a far better option than hi-fi separates-it's compact and dispenses with unnecessary extras such as DSP processing and surround amplification. It isn't cheap, but it should last through multiple PC upgrades and easily rivals the Corsair SP2500 as the best set of 2.1 PC speakers.